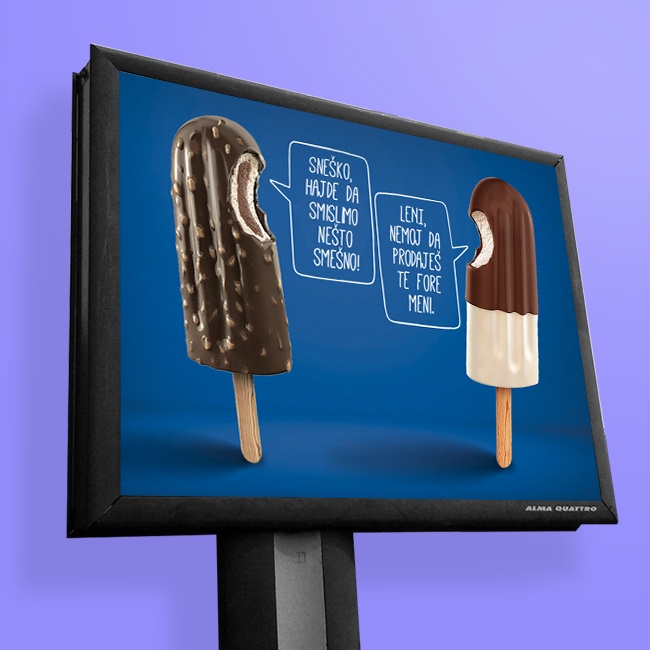 Challenge
Social networks are a breeding ground for PR crisis expansion, so in case a crisis breaks, brands use all available resources trying to freeze it. And who is better at freezing than Frikom?
In late spring, Frikom billboards appeared all over the city and drew people's attention, but not their approval. Still, where others saw the beginning of a crisis, we saw the opportunity for a successful digital campaign.
"Who licks your ice cream" or "Never enough ice cream, I'd jump from a bridge and scream" were created because fans wanted to show their sense of humour using the template of Frikom billboards. The only thing we did was hear their wish on time, and then went on to make a microsite and invite them to create their own billboards.
Solution
"Moj bilbord je bolji od tvog" (My Billboard is Better Than Yours) competition was promoted on social networks, especially Facebook and Instagram, using both content and paid ads, the buzz generated with no cost, but also using digital PR on professional communication channels.
Riding the wave of attention stirred by the offline campaign, we went on with this digital activation and maintained audience interest for weeks after it ended.
Results
During the 28 days from the crisis start and the digital campaign, the number of Facebook fans increased by 112%, the reach skyrocketed to 993%, and post engagement was up by 1,299%. The number of participants in the digital campaign was also not insignificant – in only 14 days, there were over 3000 generated solutions, and the best were turned into a new billboard campaign.